The last eighteen months have been a difficult time for everyone, but especially those working on the frontline of the pandemic.
It's why, when we were approached to sponsor Gratitude – a spectacular public art installation designed to pay homage to the ongoing courage and dedication of NHS staff and all key workers during the pandemic, we didn't hesitate to say yes.
If you've not yet had the chance to see it (the event has already toured Birmingham, Manchester and Edinburgh) and are in London over the next few days, we strongly recommend going to see Gratitude at Southwark Cathedral (October 1-10).
Organised by global art company Wild in Art and proudly sponsored by Astra Signs, the free–to–visit exhibition consists of 51 sculptures, all designed by individual artists from different regions, and curated in partnership with creative ambassador Dame Zandra Rhodes. It's a powerful, visual spectacle.
Upon close of the event all of the sculptures will be auctioned off, with substantial proceeds donated to NHS Charities Together (Registered Charity Number 1186569), which supports the NHS, including its hospitals, ambulance services, community and mental healthcare providers and vital partnerships.
Keen to produce a keepsake of our own we're over the moon to have partnered with Manchester mural painter and illustrator, Hammo, whose sculpture, Faces of Lockdown, is sponsored by Astra Signs, to produce a one-of-a kind piece of work. It's an incredible piece, designed by Hammo and expertly illuminated in LED Flex Neon by Astra Signs, and available for one lucky individual to win. You can register for the competition at www.astragroup.co.uk/gratitude/.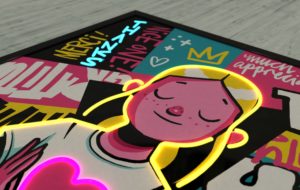 Speaking on the sponsorship, Founder and Managing Director of Astra Signs, David Derbyshire said:
"Gratitude is a spectacular and visually arresting art installation in aid of an incredible cause. We're thrilled to be able to support Wild in Art in the production of the event and to honour NHS staff and Key Workers nationwide for all that they have selflessly done to help others these last 18 months."
Charlie Langhorne, Managing Director at Wild in Art added: "Wild in Art is delighted to be working with Astra Signs whose expertise has been invaluable in ensuring the event is produced to a high standard. Without our sponsors these events would simply not happen, and we have been overwhelmed by the support of businesses."
Astra Signs is proud to be the official signage partner of Gratitude, providing expert direction on the logistics, design, branding and install of the impressive event, and producing all brand assets including floor vinyls, toblerones, fence panels, crowd barrier covers, and all sculpture plaques.
The partnership is the latest in a long list of art and cultural events supported by the business, including Manchester City Council's Thank You Manchester weekender, a fun-filled festival of thanks designed to acknowledge how the city's people had supported one another through the pandemic and to bring the laughter back and a smile to all.