After a period of rapid expansion, made-in-Manchester burger franchise, Archies, were experiencing audio-visual growing pains when they first met the Astra Group team. Their content delivery system was designed for individual restaurants rather than a network of outlets and they were searching for a reliable and consistent AV integrator with airside access for a new outlet in an exciting location.
It started with a bespoke content solution
Astra Group first become involved with the Archies project as consultants, brought onboard by the QSR's media company to assist them in setting up their BrightSign media players to enable the local control of each restaurant's on-screen content. But it soon became clear that the growing chain needed to network the screens across all their locations so that they could centralise content management.
Utilising their understanding of the underlying IT infrastructure combined with their audio-visual technology expertise, Astra Group's team of specialist in-house software developers were able to design a bespoke solution for the restaurant chain. By connecting all the screens across the chain's locations over the internet and using an FTP site to act as a server, they created a workaround that used the existing infrastructure to enable Archie's content team to push content to all their outlets from one location – and to create consistent and up to date messaging across all of their restaurants.
Eye-catching LED screens for an instantly recognisable franchise
After successfully engineering the solution for the networking issue, the two companies had established a strong working relationship, resulting in Archies entrusting ADXBA with the AV integration at their new restaurant in Arndale.
Archies is a franchise with a distinct and instantly recognisable visual identity – and it's vital that their AV displays support their brand personality. The Arndale is a busy shopping centre at the heart of Manchester, so it was important that this Archies outlet had a distinct visual identity that set it apart from the competition. To this end, Astra Group installed a striking 2.5mm-pixel pitch, 3-metre by 1.5-metre LED screen on the outer exterior wall of the restaurant, visible from outside the eatery and surrounded by a seating area, creating an impactful and inviting feature.
After the successful installation at The Arndale, the Archies team reached out to Astra Group once again to install video walls at a further location in Manchester Airport.  The development of this second location coincided with a billion-pound renovation project at Terminal 2 – which included an 81 square-metre LED "Wonderwall" feature installed by Astra Group.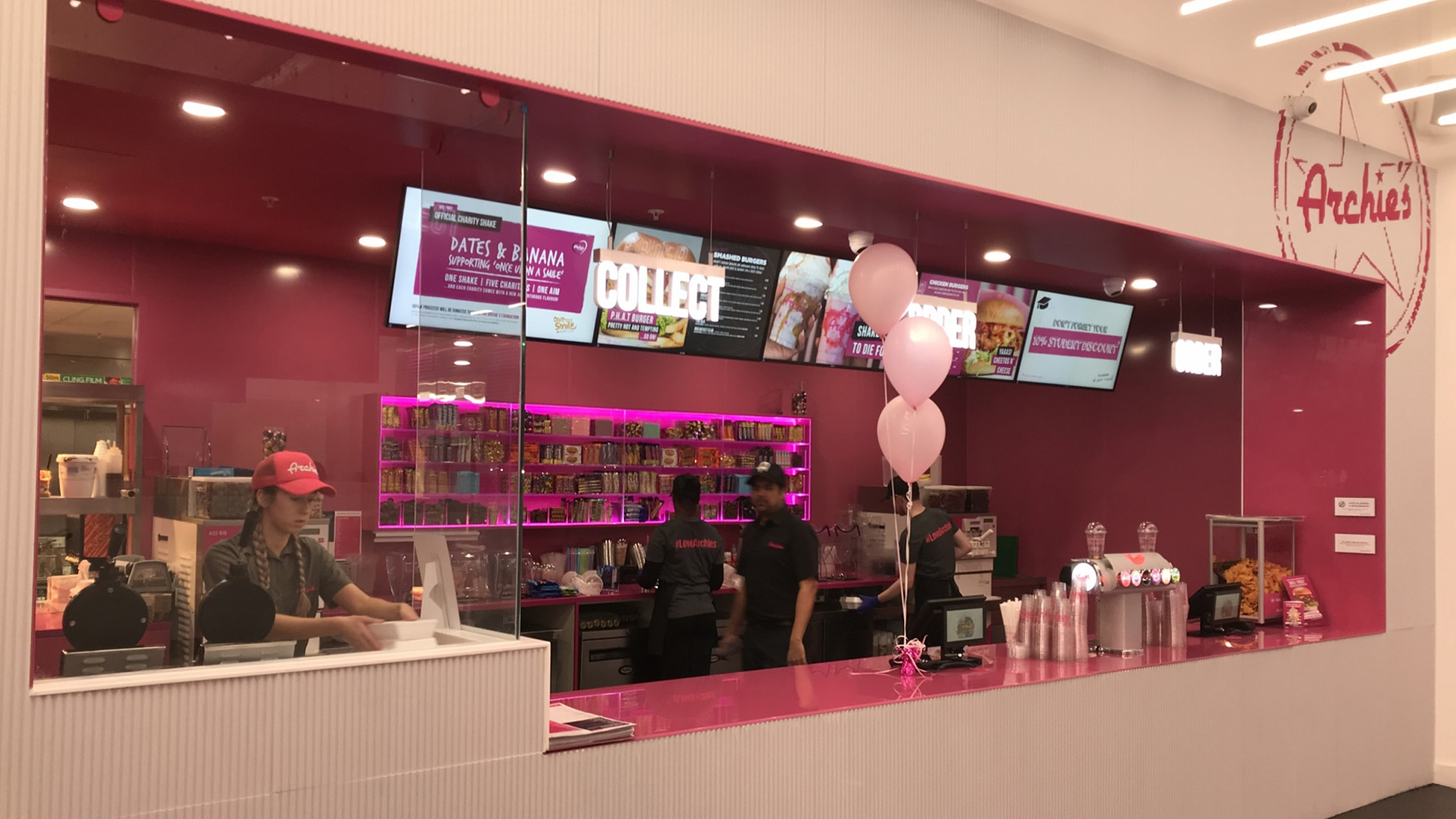 Archies Manchester Airport branch's video display may be on a smaller scale than the Wonderwall, but it's just as effective.  The 2.5mm-pixel pitch, 8+ square meter LED display provides an eye-catching feature to attract customers into the outlet and provides the perfect backdrop for their young clientele's social posts. Astra Group were ideally suited to supporting Archies' expansion into Manchester Airport as, not only had the AV team already completed a successful installation at Arndale, but due to their work on previous DOOH projects and the Wonderwall installation, they also had the necessary qualifications and clearances to work airside, beyond passport control.
In addition to installing large-scale branding displays for the Archies restaurants in both The Arndale and Manchester Airport, ADXBA also installed high-resolution video-wall menu boards (consisting of five 43-inch LCD screens) at both venues.  Finally, a number of 55-inch LCD screens were staggered throughout each store to allow customers to peruse the menu whilst minimising congestion at the counter.
A successful partnership
Commenting on their ongoing collaboration with Archies, Nick Shaw, sales & marketing director at Astra Group, comments:
"The progression of our work with Archies is indicative of the way Astra Group has expanded into various other markets. Using our extensive experience, we proved our capabilities through solving the IT and infrastructural issues and continued to work with Archies due to our distinctive ability to see the full picture."
He continues, "Astra Group don't just install screens – we have a unique IT background and skills base which enables us to build long-lasting, reliable AV installations. Visuals are, of course, a vital part of AV – but our ability to solve problems and create a full turnkey solution for our clients is what sets us apart – and what makes our partnerships with clients like Archies so successful."