ADXBA part of Astra Group
ADXBA, the UK-based digital signage solutions specialist, has developed a recently acquired property near Manchester into a full DOOH assembly and quality control facility.

ADXBA first become involved with the Archies project as consultants, brought onboard by the QSR's media company to assist them in setting up their BrightSign media players to enable the local control of each restaurant's on-screen content. But it soon became clear that the growing chain needed to network the screens across all their locations so that they could centralise content management.
Utilising their understanding of the underlying IT infrastructure combined with their audio-visual technology expertise, ADXBA's team of specialist in-house software developers were able to design a bespoke solution for the restaurant chain.   By connecting all the screens across the chain's locations over the internet and using an FTP site to act as a server, they created a workaround that used the existing infrastructure to enable Archie's content team to push content to all their outlets from one location – and to create consistent and up to date messaging across all of their restaurants.
In particular, it is anticipated that the large-format capabilities that the facility provides will significantly streamline the delivery of major long-term contracts involving numerous deployments. These include the ongoing project for Alight Media to install DOOH solutions at roadside locations around the UK as well as projects that the company is working on with other leading DOOH agencies. Further underlining its commitment to meeting all customer needs, there are also plans to initiate a 4-hour responsive service to operate out of Stalybridge.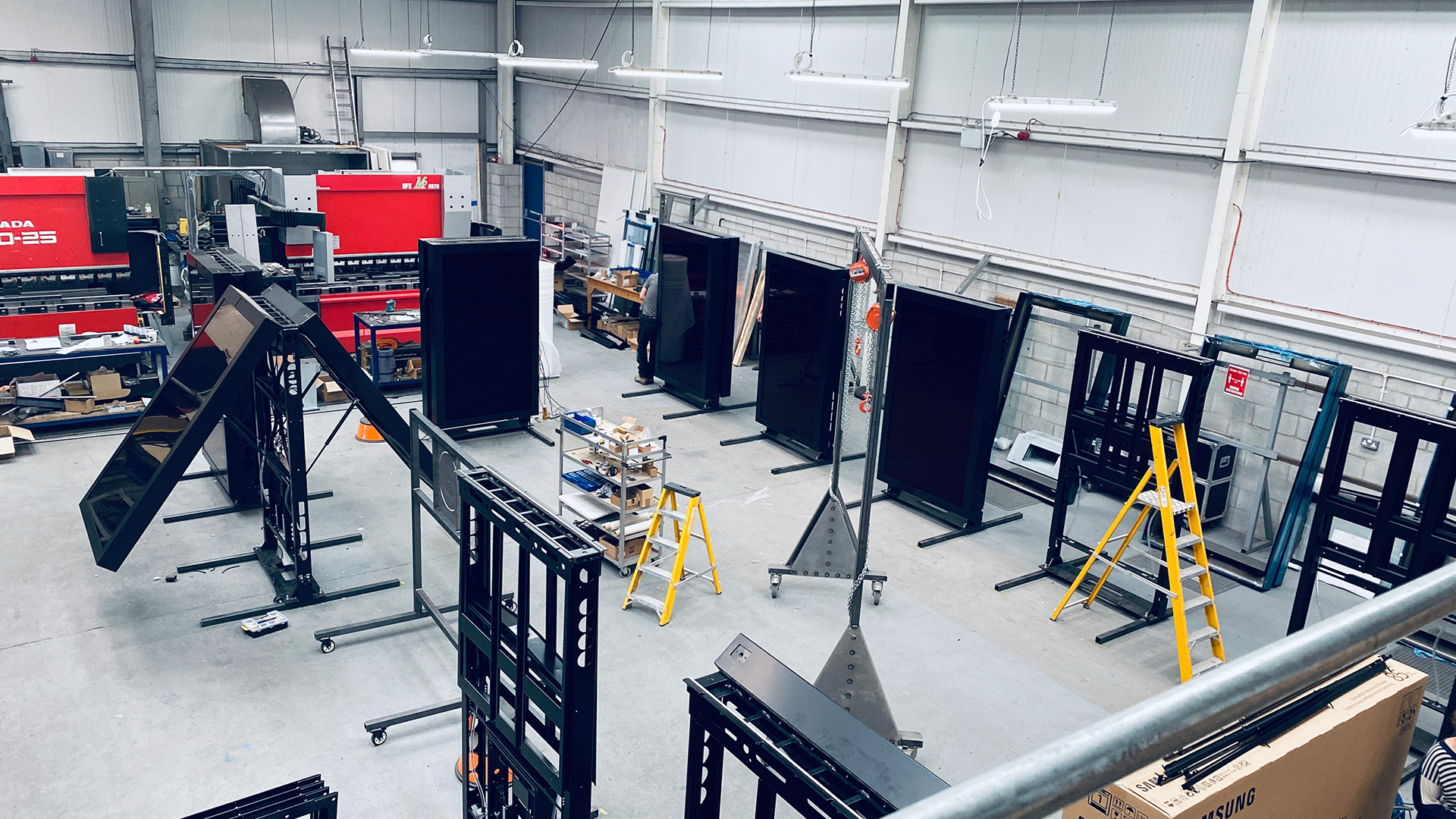 Jim Kerr, CEO of ADXBA, comments: "With the scope of our work with Alight Media continuing to grow, the new facility will be hugely beneficial in making the assembly process more efficient and greatly reducing on-site work to commission displays. But our ambitions extend beyond this single contract – we are now able to offer a unique large-format assembly and QC capability that we are confident will resonate with DOOH owners and media organisations across the country."
ADXBA's sales and marketing director, Nick Shaw, believes that the facility also brings a further dimension to collaboration with clients by providing the ability to achieve comprehensive testing before on-site work gets underway.
"It's a unique proposition in the UK DOOH market to be able to prove that everything works at the warehouse before moving to the actual deployment," he says. "Not only does this bring welcome further reassurance for the customer, it also heralds greater flexibility for the installation side, because we, or any other providers, can simply load the assembled displays onto a flatbed truck and then take care of the on-site work."
Underlining its current trajectory of sustained growth, ADXBA is also in the process of recruiting new personnel to work in multiple departments across its business. "The growth of our team and the addition of the assembly facility underline the success of our diversification into DOOH," says Kerr. "With the steps we are taking now, we will further confirm our commitment to innovation and an end-to-end approach to DOOH delivery that we believe make us a singular player in the UK market."