An Immersive Experience With Bespoke Cardboard Standees
 In continuation of The Lowry's Julia and Axel exhibition. Astra Group were tasked with enhancing the exhibition experience through the creative use of bespoke cardboard standees, adding a new dimension to The Lowry's display cases, offering children an immersive experience with their favourite characters brought to life. 
We were tasked by The Lowry to provide bespoke cardboard standees that enhance the exhibition experience for their young visitors, we seized the opportunity to demonstrate our commitment to excellence. Through the creative use of standees and precision manufacturing, we've added a new dimension to The Lowry's display cases, offering children an immersive encounter with their favourite characters.
By strategically placing 3D standees within the display cases, we've brought characters to life in a way that captivates young visitors. The result is a dynamic display that captures the imagination, making it feel as if beloved characters have sprung from the pages of a book or screen into the real world. This innovative approach adds a touch of magic to the exhibitions and ensures that every visit to The Lowry is a memorable one for children and their families.
Not only do we create cardboard standees, but we also provide a variety of bespoke cardboard solutions. Transforming visions into reality through signage solutions is what Astra Group excels at.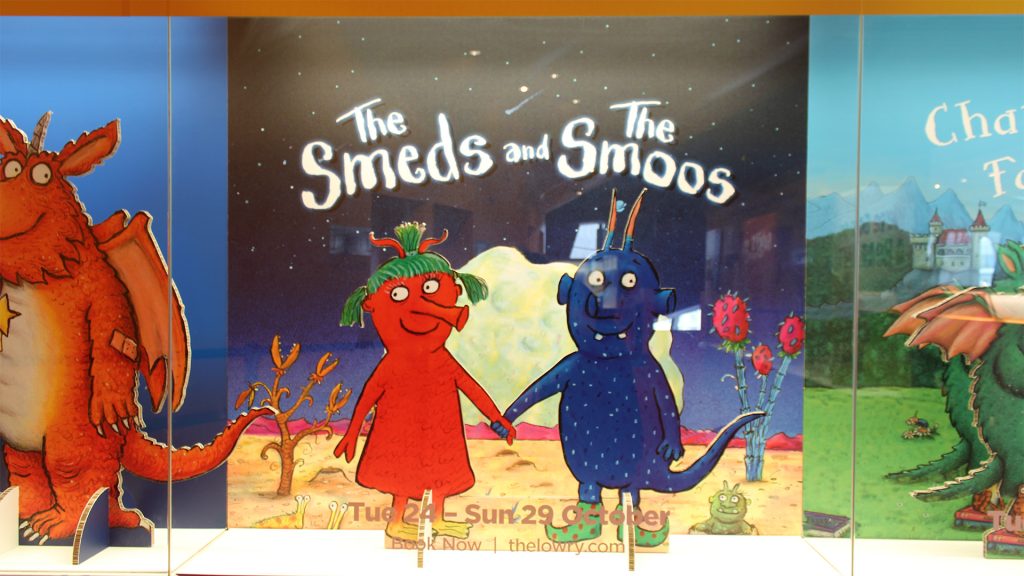 Our Meticulous Manufacturing Process
The success of this project lies in the meticulous manufacturing process we employed:
UV Digitally Printed Characters on Honeycomb Cardboard

:

We started by digitally printing the characters on both sides of environmentally friendly honeycomb cardboard. With the use of honeycomb cardboard, our displays are hardwearing, guaranteeing durability without compromising on quality.
Precision Cutting

: Our next step involved cutting out the characters with unparalleled precision using the Kongsberg machine, a state-of-the-art digital cutting system.

Regardless of the intricacy of the design, we never miss a detail. This level of precision is essential to maintain the integrity of the character's appearance and ensure a lifelike 3D effect.
On-Site Assembly: To ensure a flawless end product, our standees are assembled on-site by our skilled team. This step guarantees that every standee is perfectly positioned, further enhancing the immersive experience for The Lowry's young visitors and providing the best service for our clients.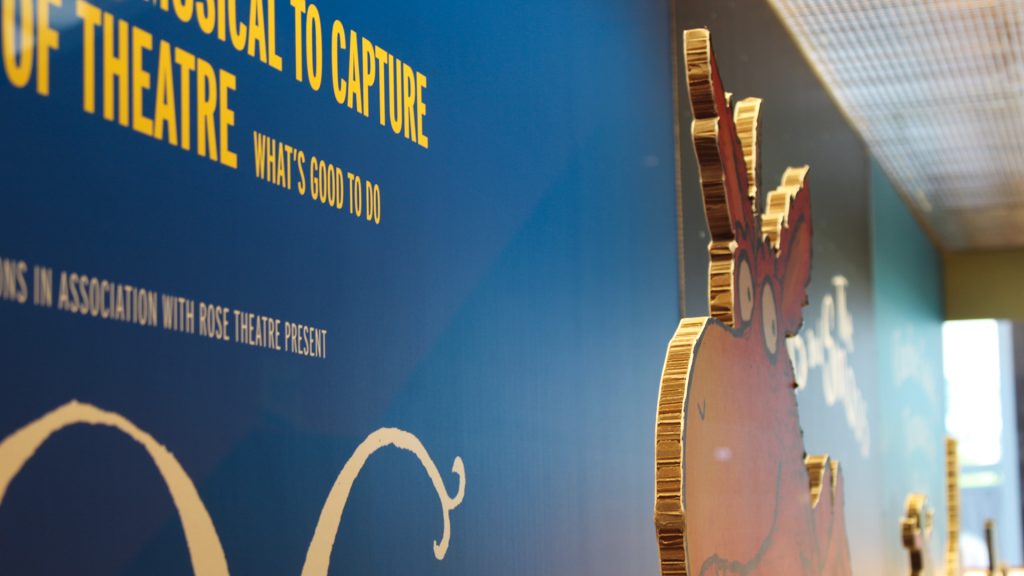 Conclusion

In conclusion, our collaboration with The Lowry has exemplified our commitment to delivering exceptional signage solutions. We've added a captivating 3D dimension to their exhibition display, allowing children to see their favourite characters brought to life. Our manufacturing process, from eco-friendly materials to precision cutting and on-site assembly, has ensured the success of this project.

At Astra Group, we take pride in making visions come to life, and The Lowry's enhanced exhibitions are a testament to our dedication to excellence. If you're looking to elevate your signage and create memorable experiences, contact us today. We're ready to bring your ideas to life, just as we've done for The Lowry.
Read more about the signage solutions we've provided for The Lowry's Julia and Axel exhibition.